Prominent crypto entrepreneurs and supporters, who shared memes on Twitter about doing odd jobs amid an ongoing market crash, were joined by global fast-food giant McDonald's — the brand infamously linked with temporary Bitcoin (BTC) market crashes. 
BTC price saw a steady downfall ever since breaching into an all-time high of $69,000 back in November 2022. Eventually, as BTC started trading below the $40,000 mark, crypto millionaires and investors on Twitter started sharing memes about getting jobs at fast-food restaurants.
El Salvador President Nayib Bukele, too, embraced the meme culture and uploaded a new profile picture that shows him at one of his speeches sporting a badly photoshopped McDonald's branded cap and T-shirt.
#NewProfilePic pic.twitter.com/YVDlBoA2Cq

— Nayib Bukele (@nayibbukele) January 22, 2022
Joining in on the fun with numerous others, McDonald's acknowledged the ongoing developments within Crypto Twitter by following influential members of the community such as Cardano founder Charles Hoskinson and Altcoin Daily. The account drew more attention as it tweeted:
how are you doing people who run crypto twitter accounts

— McDonald's (@McDonalds) January 24, 2022
While Binance responded to the question with a picture of a crying face hidden behind a smiling mask, McDonald's consoled the world's biggest crypto exchange with a 'wagmi', short for 'we are gonna make it.'
wagmi friend

— McDonald's (@McDonalds) January 24, 2022
Bukele, however, seems to have bigger plans in mind.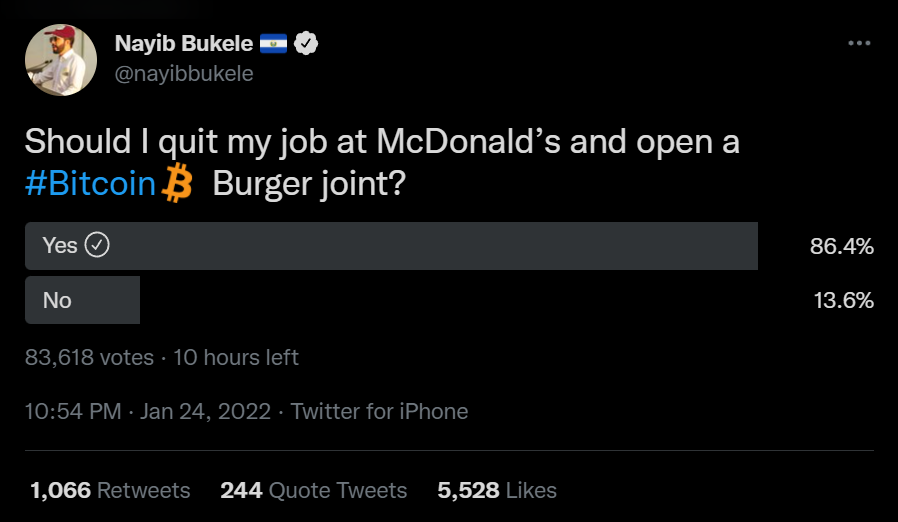 Related: Bitcoin could outperform stocks in 2022 amid Fed tightening — Bloomberg analyst
Despite the uncertain market condition, Bloomberg commodity strategist Mike McGlone believes in the possibility of BTC's comeback as investors recognize its value as a digital reserve asset.
As Cointelegraph reported, McGlone stated:
"Cryptos are tops among the risky and speculative. If risk assets decline, it helps the Fed's inflation fight. Becoming a global reserve asset, Bitcoin may be a primary beneficiary in that scenario."
The analyst expects the "enduring trio" — BTC, Ether (ETH) and USD-pegged stablecoins — to maintain dominance throughout 2022.